Bitácora • July 03, 2021
on
July 3, 2021
at
4:25 pm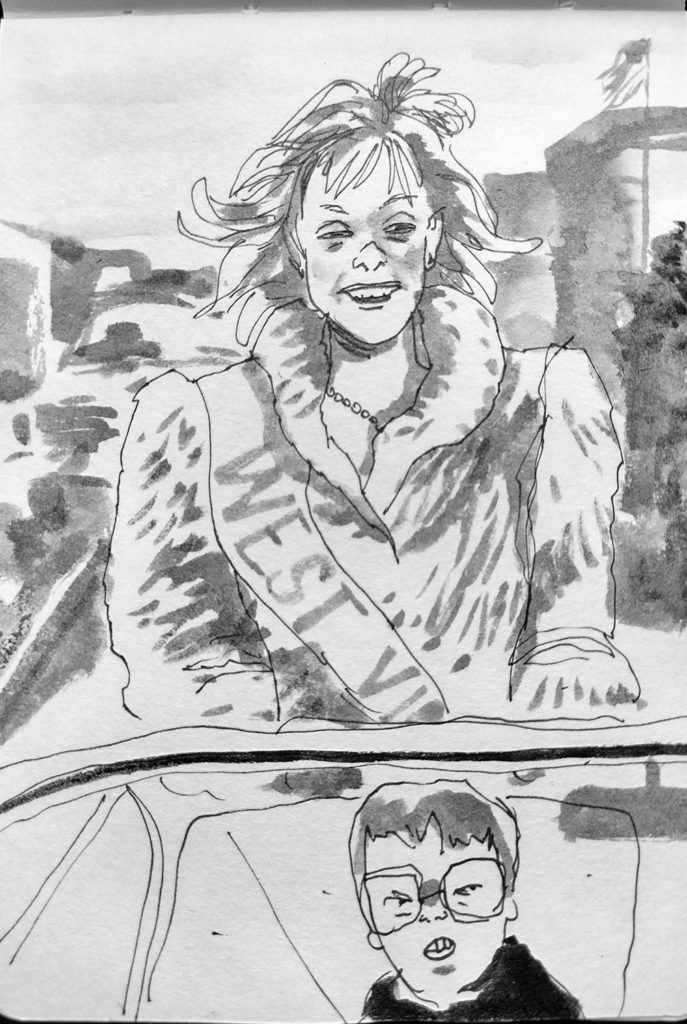 Work journal: This week I shared the new Lydia Ray comic, which took me a long time to make. The first half of the year was a bit bumpy for me, now I look to a more organized landscape ahead regarding the Secret Knots. In that spirit, I decided to use this blog, following a weekly template. It looks like a nice time to start blogging again, in the yard of my own website.
Speaking of which, I worked on some areas of the site which were in need of a long due update. Fixed some compatibility issues with mobile reading and opted for a more minimal look. These two facts are related. I also rewrote the About page, since half of the review and praise links were broken at this point. Tried not to make this fact into a melancholy spot to brood on.
Worked a bit on commissions and the concepts for one of my next comics, and came up with an idea for a new 'List' style comics.
On Patreon
I launched a new Portrait reward for pledge tiers $3 and up, called 80s STARS. This is the call text:
Fashion from the 80s, pretty much ridiculed from the 90s to well into mid 00s, and kind-of reevaluated at different times during the latest years, is a source of many outstanding looks that also inspire concepts in sci-fi (think cyberpunk esthetic, hmmm another idea) and other genres, specially when they are in need of something unusual, slightly unreal and memorable. From the many styles (that, admittedly, in time tend to fuse with each other as happens with most trends) from the 80s music heroes styles I'm particularly fond of the looks in the beginning of that decade, inherited from Glam Rock, into New Wave and Synth Pop.
(I'm aware I'm beginning to sound like a YouTube top ten list presenter. I'll stop now with the intro)
SO, the for the new thematic portrait reward, I've compiled 5 different New Wave inspired styles to suit up your portraits. You may think of this like a costume party if you want. This new game is called 80s STARS, and I'm borrowing the "character classes" system from rpgs, in order to make your choices (and mine) easier.
These are the Character Classes for the 80 STARS portrait reward
CHOOSE YOUR FIGHTER: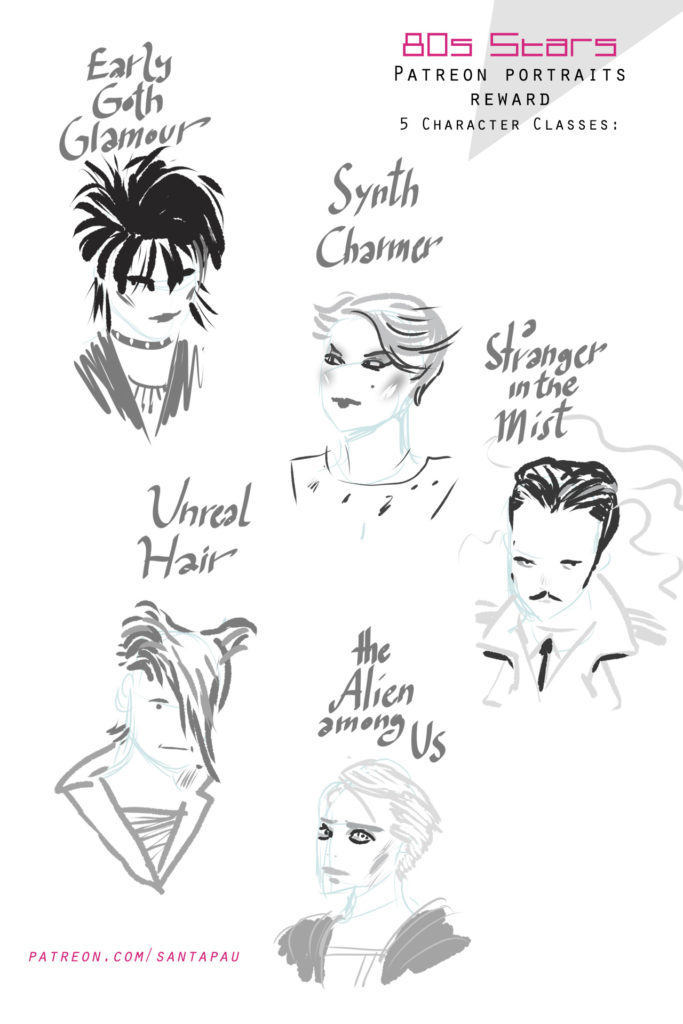 Remember, this is available to new Patreon subscribers as well. Check out the tiers here.
---
Readings, movies and etc
I've been reading The Affirmation, by Christopher Priest. Unknowingly, I started a few months ago, by the exit of his Dream Archipelago books, with The Gradual; now at last I'm in the starting point of the trip to the many islands of his curious mirror world. Recommended.
I've been watching the Clone Wars series. Besides being entertaining, brief episodes to watch during lunch, I love the painted skies and the color work in general. It's very pretty.
On the other hand, this week I watched the movie The Kill List (2011). I was unprepared for it. It delves into folk horror territory, although in the first minutes you can't tell. You'll think you got the wrong recommendation, but pretty soon things begin to take their strange form. I enjoyed how it lays the pieces of what's going on for the viewer to assemble, I wish mainstream movies would take at least a fraction of this example.
Be warned that it has a couple of really disturbing moments.
From the Secret Knots Discord
LTK links to an article about the original, and very different Shrek picture book
HazySkies and fiddler_green recommend the story The Husband Stitch
Marquise de Clarabas give us The Worst Interface
And, because we were discussing clichés in world building: Every Fantasy Map
What Else Is There
Tilings Encyclopedia: https://tilings.math.uni-bielefeld.de
The art of Isaac Levitan, classical Russian landscape painter who advanced the genre of the "mood landscape"